NAA-Na
Sodium 1-Naphthaleneacetate
is pure white, odorless or a little odor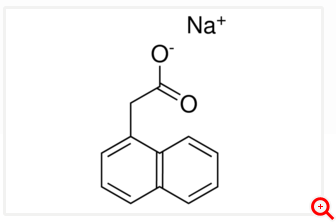 powder, a little sweet or salty. Easily soluble in water(53.0g/100ml,25℃), slightly soluble in ethanol (1.4g/100ml) and its solution PH value is 8.no precipitation.
Sodium a-naphthaleneacitic acid NAA-Na is one kind of broad-spectrum

plant growth regulators

, it can enter plant body through plant leaves and skin together with nutritions. It can promote root differentiation and formation, speed up branches and cuttings rooting growth, induce flowering,accelerate chlorophyl synthesis,prevent flower and fruit-dropping.Meanwhile sodium a-naphthaleneacitic acid can increase the ability of resistance and thus increase yield well.
Appearance Pure white crystal
Boling point 373.2℃ at 760 mmHg
Vapor pressure 3.13E-06mmHg at 25℃
Application
1) NAA-Na can made into water formulation, oil formulation, powder formulation alone.
2) NAA-Na can be compounded with auxin as rooting hormone.
3) NAA-Na can be mixed with sodium nitrophenolate produce into Nitrate naphthalene preparation in order to increase efficiency reciprocally.That has been widely used in Japan, Taiwan etc. more than 20 years.
4) NAA-Na can be mixed with foliar fertilizer, red fertilization to increase fertilizer utilization ratio.
5) Naa-Na can be mixed with fungicides to increase efficiency highly.