IBA 3-Indolebutyric acid CAS 133-32-4 is an endogeous

indole plant hormone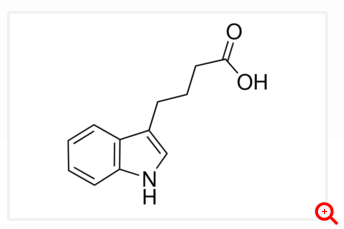 which exists universally in plants, belonging to the indole compound.
The pure product is colorless to pale yellow crystal, the melting point is 122-124°C. It's soluble in alcohol, acetone, ethoxyethane; moisture in light and wet air;
very stable in neutral, acidic and akaline medium.
It's a kind of

plant growth regulator

which acts on cell division and cell elongation in plants.
Specification
Appearance Colorless to pale yellow crystal
Residues after ignition 0.1%max
3-Indolebutyricacid IBA is mainly used for cuttings to take root, to induce the formation of the original
body,differentiation and division of the cell, It is advantageous to the new root growth and
differentiation of vascular bundle system, promote the formation of adventitious roots out cutting.
3-Indolebutyric acid IBA is to promote the effect of plant root. Because indole acetic acid and nature is relatively stable,
it is not easy to conduct in plant body. It only stays in the treatment of the parts, using is safer, so multi-purpose made as fertilizer basal.
1 kg net bag, 25kgs net paper drum.
Keep in a cool, dry, dark location in a tightly sealed container or cylinder. Keep away from incompatible materials, ignition sources and untrained individuals.
Secure and label area. Protect containers/cylinders from physical damage.