Trimethoprim CAS 738-70-5
, a kind of white or yellowish white powder,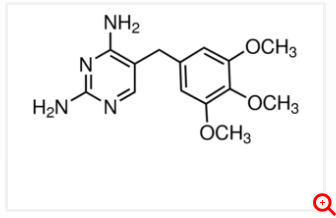 is melting at 199-203 °C. It is a lipotropy weak alkaline ethylamine pyrimidine bacteriostatic agent, called as sulfa-synergist, too. Typically, it is ordorless, tastes bitter, sparingly soluble in chloroform, slightly soluble in alcohol or acetate, and easily soluble in glacial acetic acid. But it is almost insoluble in water. Solubility in water is less than 0.1 g per 100 ml at 24℃.
Specification
Appearance White or yellowish-white powder
Melting point 199-203℃
Specific absorbance Max 287nm
Any single impurity ≤0.1%
Total impurities ≤0.2%
Heavy metals ≤20ppm
Residual methanol ≤3000ppm
Residual DMSO ≤5000ppm
Loss on drying ≤1.0%
Sulphated ash ≤0.1%
Assay 98.5%~101.0%
Application
An oral broad-spectrum antibacterial drugs, trimethoprim is antibacterial and it is resemble sulfonamide. The antibacterial function will be better along with sulfonamide. It is used to cure breath-path infection, senile chronic bronchitis, bacillary dysentery, urinary tract infection, nephritis, enteritis typhoid, gonorrhea and some specific inflammation.
Packing
25kg/fiber drum