Terbinafine Hydrochloride CAS 78628-80-5
is a kind of allyl amine dermatologist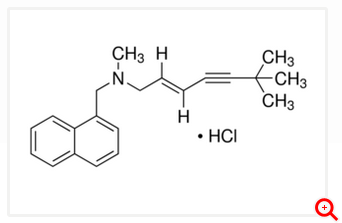 with broad-spectrum

antifungal

drugs.
Terbinafine Hydrochloride
is w
hite or off white powder,very slightly or slightly soluble in water,freely soluble in anhydrous ethanol and
methanol,slightly soluble in acetone.
Specification
Appearance White or off white powder
Assay 99~101%(Titration)
Loss on drying ≤0.5%
Heavy metals ≤ 20ppm
PH 3.0~4.5
Residue on ignition ≤ 0.1%
Applications
Terbinafine Hydrochloride is a kind of antifungal drugs.
-- As Antifungal drugs, its effect on shallow fungal infection is stronger. E
xternal use can cure most of the fungal skin disease.
-- It has remarkable curative effect on beriberi, leuconychia, ringworm,
tinea corporis, tinea versicolor, etc
-- Used for bronchial asthma, asthmatic bronchitis and emphysema, etc.
Packaging
25kg fibre drum
Total 9 MT per 20ft container with pallets.Total 12 MT per 20ft container without pallets.
Safety & Storage & Handling
Stored in cool and airy place; away from fire and heat; handle with care;no breakage, avoid leakage.
It is valid for 3 years under proper condition.
* Please refer to MSDS for more information about Safety, Storage and Transportation.