Sulfacetamide Sodium CAS 6209-17-2 (anhydrous 127-56-0) exists in white crystalline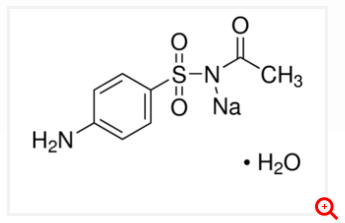 powder. It is very soluble in water, the pH of 15%-30% solution is 7.4. The penetrability is strong, it may enter eye crystal and interior organization and reached some higher concentration. The toxicity is low and almost no thrill when used partly. It adapts to cure trachoma, conjunctivitis and keratitis.
Specification
Appearance White crystalline powder
Appearance of Solution ≤GY4
PH 8.0-9.5
Water 6.0%~8.0%
Selenium ≤0.003%
Ordinary Impurities ≤2.0%
Heavy Metals ≤0.002%
Sulphate ≤0.02%
Assay 99.0%~101.0%
Application
Sulfacetamide sodium is an antibiotic.
Sulfacetamide sodium is used to treat bacterial infections of the eyes.
Packing
25kg/fiber drum or as per customer request.