Salicylamide CAS 65-45-2 is a non-prescription drug with analgesic and antipyretic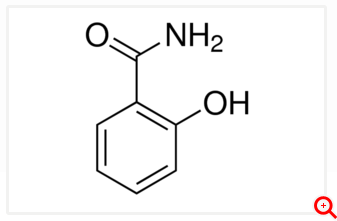 properties. It is white crystal or crystal powder,odorless and Glycerin,Hardly soluble in ether and chloroform insoluble nearly in water.Freely soluble in sodium hydroxide solution,its solution appears acid reaction. Its medicinal uses are similar to those of aspirin. It is medicine of lever allaying and analgesia for lever, headache, neuralgia, jointache and flexible rheumatism.
Specification
Appearance White crystalline powder
Assay 98.00%-102.00%
Melting point 139.00℃-142.00℃
Water 0.50% Max.
Residue on ignition 0.10% Max.
Heavy metals 0.001% Max.
Applications
- Antipyretic analgesics, for fever headache, neuralgia, arthritis and rheumatism disease activity;
- It is also used for other medicines, pesticides and other fine chemicals intermediates;


Packaging
25kgs in paper bag or fiberboard drum both attached with paper or polyethylene bag inside;
Storage
Store in a tightly closed container. Store in a cool, dry, well-ventilated area away from incompatible substances.