Piperazine Anhydrous (CAS 110-85-0) is an organic compound that consists of a six-membered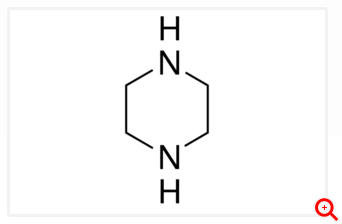 ring containingtwo nitrogen atoms at opposite positions in the ring.
Piperazine anhydrous is freely soluble in water and ethylene glycol, but insoluble in diethyl ether.
Piperazine exists as small alkaline deliquescent crystals with a saline taste. Piperazine anhydrous is
an important intermediate for medicines, pesticides and dyes.
Specification
Piperazine Anhydrous Industry grade
Item Specifications
Appearance White flakes
Assay,% ≥ 99.5
Water, % ≤ 0.5
Color (Hazan) ≤ 50
Piperazine Anhydrous Pharma grade
Item Specifications
Appearance White flakes
Assay,% ≥ 99.7
Water, % ≤ 0.2
Color (Hazan) ≤ 30
Application of Piperazine anhydrous
Piperazine anhydrous was first introduced as an anthelmintic in 1953. A large number of piperazine compounds have anthelmintic action. Their mode of action is generally by paralysing parasites, which allows the host body to easily remove or expel the invading organism.
Piperazine anhydorus are also used in the manufacture of plastics, resins, pesticides, brake fluid and other industrial materials. Piperazine anhydrous, especially BZP and TFMPP were extremely common adulterants in the club and rave scene, often being passed off as MDMA, although they do not share many similarities in their effects.
Piperazines is also a fluid used for CO2 and H2S scrubbing in association with methyl diethanolamine (MDEA).
Piperazine Anhydrous is an important intermediate for medicines, pesticides and dyes.
-- Mostly used as an important pharmaceutical intermediates in the production drive hatched from drug piperazine and piperazine phosphate, citrate and perphenazine, severe pain, rifampicin and equality,etc.
-- Used as intermediate of fungicide triforine.
-- Used in the production of wetting agent, emulsifier, dispersant, surface active agent products and production of antioxidants, preservatives, and rubber additives and other plastic processing additives,etc.
--Also used for testing chemical reagent of magnesium, bismuth, gold and other metals.
Packing
50kg per carton
Total 9 MT per 20ft container with pallets.
Safety & Storage & Handling
Stored in cool and airy place; away from fire and heat; handle with care;no breakage, avoid leakage.
It is valid for 1 year under proper condition.
Piperazine Anhydrous is classified as Dangerous Good for transport (UN 2579, Class 8, Packing group III)
* Please refer to MSDS for more information about Safety, Storage and Transportation.