Mildronate Meldonium (CAS 76144-81-5)
exists in white crystals or white crystal powder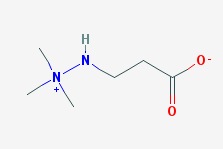 with a slight characteristic odor.
Hygroscopic. Readily soluble in water,moderately soluble in 95% alcohol, practically insoluble in chloroform and ether.
Mildronate is the leading agent of the cardiovascular group, anti-ischemic agent of a metabolic action.Acts as anti-ischemic cell protector in patients with angina pectoris, chronic heart failure, brain circulation disorders.Improves physical capacity and mental function in the case of ischemia and in healhty people. Due to its unique mechanism of action Mildronate,depending on the prescribed dose, is widely used for the treatment of different heart and vascular diseases,
as well as for the improvement of work capacity of healthy people at physical and mental overloads and during rehabilitation period.
Specification
Appearance White crystal powder
Melting point, ℃ 85~900
PH, 7.5~9.0
Clarity, Cclear
Total Impurity ≤0.10
Assay,% 99.0% - 101.0%
Application
Mildronate may be used to treat coronary artery disease.
1) These heart problems may sometimes lead to ischemia, a condition where too little blood flows to the organs in the body, especially the heart.
Because this drug is thought to expand the arteries, it helps to

increase the blood flow

as well as increase the flow of oxygen throughout the body.
2) Meldonium has also been found to induce anticonvulsant and antihypnotic effects involving alpha 2-adrenergic receptors as well as nitric oxide-dependent mechanisms.
3) This, in summary, shows that meldonium given in acute doses could be beneficial for the treatment of seizures and alcohol intoxication.
4) It may also have some effect on decreasing the severity of withdrawal symptoms caused by the cessation of chronic alcohol use.
Packing
5 kgs/drum
10 kgs/drum
25 kgs/drum