DL-Mandelic acid CAS 90-64-2 is an aromatic alpha hydroxy acid with the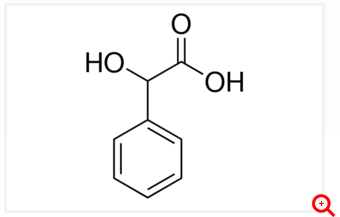 molecular formula C6H5CH(OH)CO2H.
It is a white crystalline powder that is soluble in water and polar organic solvents.
It is a useful precursor to various drugs.
Since the molecule is chiral, it exists in either of two enantiomers as well as the racemic mixture,
known as paramandelic acid.
Specification
Appearance White crystalline powder
Assay (on dry basis), % 99.0 Min
Moisture, % 0.30 Max
Application

As a pharmaceutical intermediate, Mandelic acid has a long history of use in the medical community as an antibacterial, particularly in the treatment of urinary tract infections. It has also been used as an oral antibiotic, and as a component of "chemical face peels", along with other alpha-hydroxy acids (AHAs).
Mandelic acid is used in herbicides, dye intermediate as well as an analytic reagent.
Mandelic acid can also be used in cosmetics.
Packing
25kg per fiber drum, 9mt per 20ft container