Bezocaine (CAS 94-09-7), also called Ethyl 4-aminobenzoate is a kind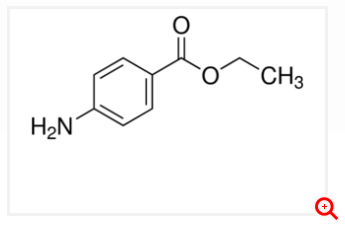 of fat-soluble surface anesthetic. Benzocaine is a local anesthetic commonly used as a topical pain reliever or in cough drops. It is the active ingredient in many over-the-counter anesthetic ointments such as products for oral ulcers. It is also combined with antipyrine to form A/B otic drops to relieve ear pain and remove earwax.
Benzocaine is sparingly soluble in water; it is more soluble in dilute acids and very soluble in ethanol, chloroform and ethyl ether. The melting point of benzocaine is 88–90 °C, and the boiling point is about 310 °C. The density of benzocaine is 1.17 g/cm3.
Specification
Bezocaine industrial grade 20~40 mesh
Appearance White crystals
Assay 98.0~101.0 %
Water 0.5%max
Residue on Ignition 0.1%max
Heavy metals 0.001%max
Bezocaine Pharma grade (50 mesh and 200 mesh)
Appearance White crystalline powder
Identification Infrared Absorption<197K>
Water 0.5 %max
Residue on ignition 0.1% max
Heavy metals 0.001%max
Assay 99.0~102.0%
* Please refer to Technical Data Sheet for lot specifications data
Application
Bezocaine is a kind of fat-soluble surface anesthetic.
- Used as a local anesthetic for skin and mucous membrane.
- Also be used to cover the sunlight as a protection agent.
Packaging
25kg fibre drum
Total 9 MT per 20ft container with pallets, 12 MT without pallets.
Storage & Handling
Stored in cool and airy place; away from fire and heat; handle with care;no breakage, avoid leakage.
It is valid for 4 years under proper condition.
* Please refer to MSDS for more information about Safety, Storage and Transportation.