Triclosan TCS CAS 3380-34-5 is white crystalline powder,odorless or slight fragrant.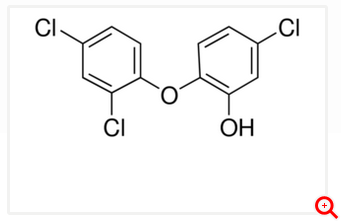 Triclosan, similar in its uses and mechanism of action to triclocarban, is an antibacterial and antifungal agent found in consumer products, including toothpaste, soaps, detergents, toys, and surgical cleaning treatments.
Triclosan is slightly soluble in water,moderately soluble in dilute alkali,soluble in ethanol, acetone and other organic solvents.It can dissolve in surfactant to prepare transparent condensed liquid products.
Specification of Triclosan
Assay 99.5% min
Appearance White crystalline powder
Water 0.1% max
Melting Point 56 - 58℃
Residue on ignition 0.1% max
Heavy metals 20 ppm max
Application of Triclosan
Triclosan can be widely applied to antibiotic perfumed soaps, medicinal soaps,face washes,shampoos,disinfectant liquid soaps,face creams,dinner ware detergents,and washing powder.
Packing
25kg per fiber drum,9mt per 20ft container without pallets
Storage & Transport
Stored in cool and airy place; away from fire and heat; handle with care; no breakage, avoid leakage.It is valid for 2 years under proper condition.
Triclosan is classified as Dangerous Good for transport (
UN 3077,Class 9,Packing group III
)
Please refer to MSDS for more information about Safety,Storage and Transportation.