Tranexamic acid CAS 1197-18-8 is a kind of white crystalline powder; odorless, bitter taste,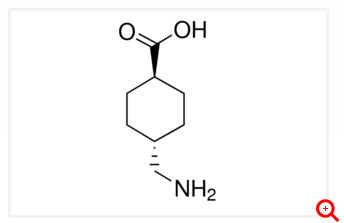 soluble in water, insoluble in ethyl alcohol , ehter and chloroform; Tranexamic acid (TXA) is a medication used to treat or prevent excessive blood loss from trauma, surgery, and in various medical conditions including hemophilia and heavy menstrual bleeding.
Specification
Assay, % min. 99-101
PH value, 7.0-8.0 max.
Loss on drying, % 0.50 max.
Related substances(HPLC), % max. 0.1
(Impurity A )
Impurity B, % 0.2 max.
Any other impurity, % 0.1
max.
All other impurity, % max. 0.2
(except A, B)
Chloride. % max. 0.014
Sulfate ash, % max. 0.1
Heavy metals, ppm 10
max.

Application
· As pharmaceutical material, tranexamic acid is used to prevent and treat blood loss in a variety of situations, such as dental procedures for hemophiliacs, heavy menstrual bleeding, and surgeries with high risk of blood loss.
· As cosmetic raw material, tranexamic acid can be used for skin whitening;

Packaging
25kg per fiber drum with 1kg per vacuum pp inner-bag;
9mt per 20ft container