N-Methylacetamide NMA (CAS:79-16-3)
is white needle-like crystals or Liquid.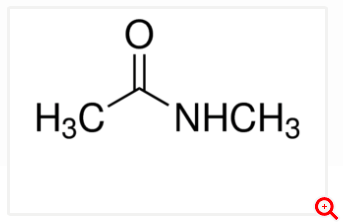 Dissolved in water, ethanol, benzene, ether, chloroform. It is an important chemical intermediate in the chemical production, also is an solvent in organic synthesis.
Specification of N-Methylacetamide
Assay, % min. 99.0
Water, % max. 0.50
Application of N-Methylacetamide
1) N-Methylacetamide is used as an chemical intermediate in the production of life science, agrochemicals, electronic materials and construction materials.
2)
N-Methylacetamide in the organic synthesis is often used as a solvent, such as cephalosporin synthetic solvents; Paint solvents; pesticide intermediates. In addition, as a deacidification agent, a catalyst.
Packing
200 kgs/drumx80 drums=16 tons/1x20' FCL
180 kgs/drumx80 drums=14.4 tons/1x20' FCL