Sodium periodate CAS 7790-28-5 is an inorganic salt, composed of a sodium cation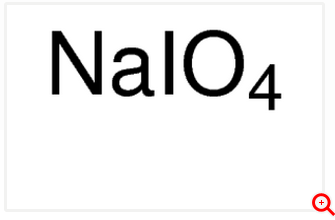 and the periodate anion. It may also be regarded as the sodium salt of periodic acid. Like all periodates it can exist in two different forms: sodium metaperiodate, which has the formula NaIO4, and sodium orthoperiodate, normally this means sodium hydrogen periodate (Na2H3IO6). Both salts are useful oxidising agents.
Sodium periodate is
colorless or white tetragonal crystalline powder with
dissolution and decomposition in 300 ° C, soluble in water, sulfuric acid, nitric acid and acetic acid, insoluble in sodium hydroxide solution and ethanol.
Specification
Sodium periodate ≥ 99.0%
Manganese (Mn) ≤ 0.0005%
Heavy metal (As Pb) ≤ 0.002%
Applications
In medicine industry, Sodium periodate is used as important raw material.
Sodium periodate can also be used as common analytical reagent and chromatograph analytical reagent.
Package
25kg per drum, 9 mt per 20ft container
Storage
Sodium periodate has a shelf life of 24 months in unopened, and Lid to be sealed to prevent leaks, avoid contact with water. Storage in a cool dry and ventilated place away from fire, heat. Please refer to the Materials Safety Data Sheet (MSDS) for the handling methods.