Sodium metabisulfite CAS 7681-57-4 or sodium pyrosulfite (sodium metabisulphite or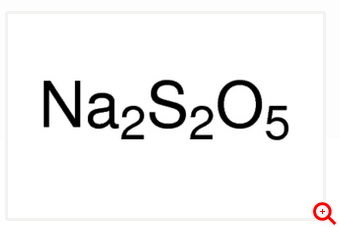 sodium pyrosulphite) is an inorganic compound of chemical formula Na2S2O5. The substance is sometimes referred to as disodium (metabisulfite). It is used as a disinfectant, antioxidant and preservative agent.Sodium metabisulfite is white or light-yellow crystalline powder, smell of SO2. No other smell when dried. Specific gravity is 1.4. It's soluble in glycerine, It's soluble slightly in alcohol.
Specification
Items Technical grade Food grade
Assay 96% min 97% min
Assay as SO2 65% min 65% min
Water insoluble 0.05% max 0.05% max
Ferric (Fe) 0.003% max 0.003% max
pH value 4.0-4.6 4.0-4.6
Lead (Pb) -- 0.002% max
Arsenic (As) -- 0.0002% max
Application
- Used as a food preservative. It is a slight hazy solution free from inappropriate impurities. These sulphites are available in white and faint cream crystalline free flowing powder and are widely used in photographic chemical and preservative chemical.
- Used in medicine when producing chloroform,solasulfone and methnylal;used as coagulant in rubber industry;
- Used as dechlorided agent or assistants in printing and dyeing industry;
- Used to improve leather properties in leather industry;
- Used as developing agent in photosensitivity industry;
- Used when producing hydroxyl geranial, hydrochloric hydroxylamine in chemical industry;
- Used as bleaching agent, antiseptics, antioxidant, ect.in food industry.
Packing
25kg bags with 3 layers pe+pp. 25Mt/20'GP without pallets; 22Mt/20'GP with pallets