P-Phenylenediamine PPD CAS 106-50-3 is white to purple crystalline solid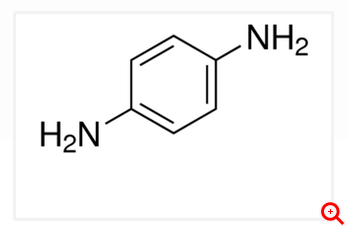 (melting point 234 F) that turns purple to black in air. Toxic by skin absorption, inhalation or ingestion. It exists in Flakes,Lump and Powder. It is mainly used as a component of engineering polymers and composites. It is also an ingredient in hair dyes.
Specification
Grade

Flake

Purified

Lum

Purified

Lump Tech

Powde

purified

Powde

Tech

Appearance

White

White

White grey

White

White

M.P, C

o

138.5

138.5

138

138.5

138

Content,%

99.9

99.9

99

99.9

99
Application
Precursor to polymers
PPD is a precursor to aramid plastics and fibers such as Kevlar. These applications exploit PPD's difunctionality, i.e. the presence of two amines which allow the molecules to be strung together. This polymer arises from the reaction of PPD and terephthaloyl chloride. The reaction of PPD with phosgene gives the diisocyanate, a precursor to urethane polymers.
Dyeing
PPD is a common hair dye. Its use is being supplanted by other aniline analogues and derivatives such as 2,5-diamino(hydroxyethylbenzene and 2,5-diaminotoluene. Other popular derivatives include tetraaminopyrimidine and indoanilines and indophenols. Derivatives of diaminopyrazole give red and violet colours. In these applications, the nearly colourless dye precursor oxidizes to the dye.
Rubber antioxidant
PPD is easily oxidized, and for this reason derivatives of PPD are used as antiozonants in production of rubber products. The substituents, naphthyl, isopropyl etc. affect the effectiveness of their antioxidant roles as well as their properties as skin irritants.
Other uses
A substituted form of PPD sold under the name CD-4 is also used as a developing agent in the C-41 color photographic film development process, reacting with the silver grains in the film and creating the colored dyes that form the image.
PPD is also used as a Henna surrogate for temporary tattoos. Its usage can lead to severe contact dermatitis.
PPD is also used as a histological stain for lipids such as myelin.
PPD is used by Lichenologists in the PD test to aid identification of Lichens.
Packing
25 kgs/Fiber drumx440 drums=11 tons/1x20' FCL without pallets (25KG open drum 380X480mm)
25 kgs/Fiber drumx360 drums=9 tons/1x20' FCL pallets
25kgs/Carton
50kgs/Fiber drum(50KG open drum 400X650mm)
125kgs/Iron drum(125KG open drum 560X890mm)
Storage
Placed in sealed container and kept in a cool and dry place.
Avoid strong vibration, insolation, high temperature, smoke and fire.