Nickel oxide Nickelous oxide CAS 1313-99-1 is the chemical compound with the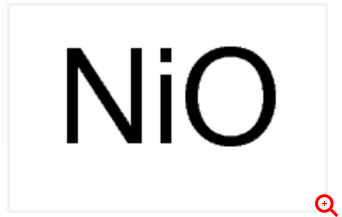 formula NiO. It is green,green-black powder. Ni2O3 is stable only at low temperature.It dissociates into Ni3O4 when heated to 400-500Deg,and if continue to be heated, Ni2O3 can become NiO. The melting point of NiO is 1650-1660ºC, so it is easy to be deoxidized by C and CO.Like FeO or Co,NiO can form NiO·SiO2 and the silicate compound of NiO·SiO2,among them,the NiO2·SiO2 is not stable.Nickel Protoxide can be dissolved in sulphuric acid,sulfinic acid,hydrochloric acid and nitric acid and ect,it will be green nickelous salts.
Specification
Appearance Black & Grey Powder
NiO,(As Ni) % ≥76.5
Co,% ≤0.15
Cu,% ≤0.05
Fe,% ≤0.10
Zn,% ≤0.05
S,% ≤0.03
Alkali metal (Ca, Mg, Na),% ≤1.0
Mesh(500) 99% pass
Application
NiO has a variety of specialized applications and generally applications distinguish between "chemical",which is relatively pure material for specialty applications, and "metallurgical grade", which is mainly used for the production of alloys. It is used in the ceramic industry to make frits, ferrites, and porcelain glazes. The sintered oxide is used to produce nickel steel alloys.
NiO was also a component in the nickel-iron battery, and is a component in fuel cells. It is the precursor to many nickel salts, for use as specialty chemicals and catalysts. More recently, NiO was used to make the NiCd rechargeable batteries found in many electronic devices until the development of the environmentally superior NiMH battery. NiO an anodic electrochromic material, have been widely studied as counter electrodes with tungsten oxide, cathodic electrochromic material, in complementary electrochromic devices.
NiO is a versatile

hydrogenation catalyst

. Heating nickel oxide with either hydrogen, carbon,
or carbon monoxide reduces it to metallic nickel. It combines with the oxides of sodium and potassium at high temperatures (>700 °C) to form the corresponding nickelate.
Nickel oxide reacts with chromium(III) oxide in a basic moist environment to form nickel chromate
Packing
25kg iron drum, 20mt/20''container