Methyl paraben CAS 99-76-3, also methylparaben, one of the parabens, is a preservative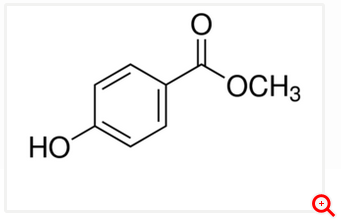 with the chemical formula CH3(C6H4(OH)COO). It is the methyl ester of p-hydroxybenzoic acid. It exists in white crystalline powder, soluble in water (2.5 g/l) at 25° C, benzene (slightly soluble), carbon tetrachloride (slightly soluble), ethanol, ether, acetone, DMSO, methanol, warm oil (25 g/l), and warm glycerol (1 g/70 ml).
Specification
Appearance White crystalline Powder
Assay (on dry base ) % 99.0-100.5
Melting Point ºC 125-128
Residue on Ignition % ≤0.1
Sulphated Ash % ≤0.05
PH value 5.0-6.0
Related Substances ≤0.5
Heavy Metal (Pb) ppm ≤2.0
Loss on Drying % ≤0.5
Application
Methylparaben is an anti-fungal agent often used in a variety of cosmetics and personal-care products.
Methylparaben is also used as a food preservative and has the E number E218.
Methylparaben is commonly used as a fungicide in Drosophila food media.
Packing
25kg/fiber drum with double PE bags inside, or as per customer request