Eucalyptus oil 70% 80% Description
Eucalyptus oil 70% is extracted from the leafs,branch from the eucalyptus globulus,Cinnamomum camphora, eucalyptus tree by steam distillation. Natural Eucalyptol are obtained by distillation of the leaves of Eucalyptus and have aromas characteristic of the particular species used.
The oils are classified into three broad types according to their composition and main end-use: medical, perfumery and industrial. Among the three types, he most important in terms of volume of production and trade is the medical type, characterised by a high cineole content in the oil.
Eucalyptus oil 70% 80% Distillation system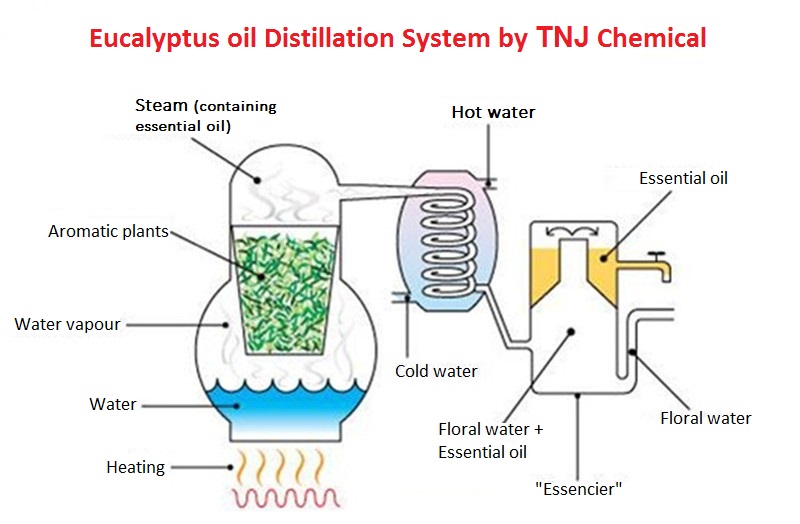 Specification of Eucalyptus oil 70% 80%
Appearance: Colorless or light yellow liquid
Odour: Cool aroma with some camphor odour
Relative density: 0.905 ~ 0.915
Refractive index: 1.4580 ~ 1.4700
Optical rotation: -10°~+10°
Heavy metal: ≤0.001%
Solubility: easy soluble in 75% ethanol
Content: cineole ≥70%, ≥80%
Where Eucalyptus oil 70% 80% is used
Eucalyptus oil is very helpful when used for headaches, fevers, ailments of the respiratory tract, muscular aches and pains and in skin care. It has a soothing and calming effect on the whole body and helps with the immune system.The oil is also effective against bacteria - especially staphylococci, and has a refreshing and stimulating action on the mind, helping to improve concentration.
- Burners and vaporizers
- Blended massage oil or in the bath
- In a cream or lotion
- Used neat or dab on with a bud
- Gargle
Packing
180 kgs/drumx80 drums=14.24tons/1x20' FCL
25kg or 50kg/drum as per customer request.