Glyoxylic acid CAS 298-12-4 is colorless or light yellow liquid, can be dissolved with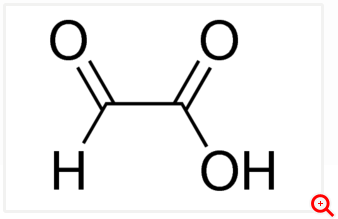 water, slightly soluble in ethanol, aether, insoluble in esters, aromatic solvents. This solution is not stable but will not decay in the air. It is used as a basic organic chemical industry and is an important chemical intermediates which can be used to produce ethyl vanillin and allantoin etc.
Specification
Glyoxylic acid 40% Liquid
Content 40±0.5%
Oxalic Acid ≤1%
Nitric acid ≤0.2%
Glyoxal ≤1%
Glyoxylic acid 50% Liquid
Index Normal Grade Chelating Grade Top Grade
Content 50±0.5% 50±0.5% 50±0.5%
Glyoxal ≤1% ≤0.5% ≤0.25%
Oxalic Acid ≤1% ≤0.5% ≤0.25%
Nitric acid ≤0.2% ≤0.2% ≤0.2%
Applications
1) Used as material for methyl vanillin, ethyl vanillin in flavor industry;
2) Used as intermediate for atenolol,D-hydroxybenzeneglycin, broadspectrum antibiotic, amoxicillin(orally taken), acetophenone, amino acid etc.
3) Used as intermediate of varnish material, dyes, plastic, agrochemical, allantoin and daily-use chemical etc..
Packaging
25kg per plastic drum or 250kg per plastic drum;
Total 20MT per 20ft container on pallets (without pallets)
Storage
Stored in cool, dry and draughty place. Stored as toxic chemicals.