Glyoxylic acid monohydrate CAS 563-96-2 is white powder, can be dissolved with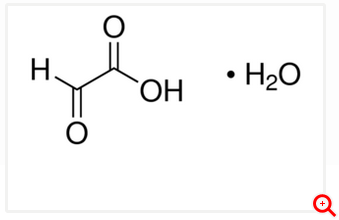 water, slightly soluble in ethanol, aether, insoluble in esters, aromatic solvents.
Specification
Index Normal Grade Top Grade
Glyoxylic acid ≥98% 99.5%+0.2
Glyoxal ≤0.1% ≤0.05%
Oxalic acid ≤1.0% ≤0.45%
Glycolic acid ≤3g/L ≤3g/L
Burning residue ≤0.05% ≤0.05%
Applications
Glyoxylic acid monohydrate is commonly used as pharmaceutical intermediates, hair dye, cosmetics etc.
Packaging
25kg per fiber drum
Storage
Stored in cool, dry and draughty place. Stored as toxic chemicals.