Calcium acetate CAS 62-54-4 is white crystalline particle or crystalline powder, with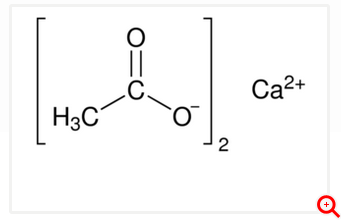 slightly propionic acid odor. Stable to heat and light, easily soluble in water. Calcium acetate can be used in bread, cookie, cheese and other foods as preservative, as antiseptic in feed industry, and mineral additive. It can also used in pharma and feed industry.
Specification
Calcium Acetate Anhydrous pharma grade USP
Calcium Acetate Monohydrate Industrial grade
CalciumAcetate Monohydrate Food grade FCC
Calcium Acetate Monohydrate Pharma USP
* Please refer to Certificate of Analysis for lot specific data.
Application
1) Calcium acetate can be used as antifungal agent, dough leavening agent, regulator, buffer, tissue improver, curing agent,nutritional supplement, chelating agent in the food industry such as leavening agent of baking products and cakes.
2) Calcium acetate can be used as fermentation assistant agent, buffering agent, curing agent (gelation)of bread and biscuit ,tissue modifier of the yeast food meat products etc..It can increase the saccharifying power and the fermentation ability when used in brewing.
3) In kidney disease, blood levels of phosphate may rise (called hyperphosphatemia) leading to bone problems. Calcium acetate binds phosphate in the diet to lower blood phosphate levels.
4) Generally, Calcium acetate can be used as chelating agent, Antibacterial agents; Mildew Stabilizer, Slow granule, More aromatic agent; Preservatives, Fennan; PH regulator, Processing AIDS.
Packing
25kg/paper bag