Acesulfame-K, Acesulfame Potassium, AK sugar CAS 55589-62-3 is a calorie-free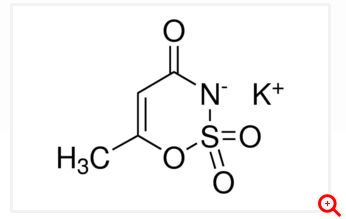 sugar substitute (artificial sweetener), also known as Acesulfame K or Ace K (K being the symbol forpotassium). Acesulfame K is 200 times sweeter than sucrose (table sugar), it is a highly stable, crystalline sweetener with a chemical structure is similar to saccharin. It exists in white crystal or crystalline powder, melting point >250°C (lit.).
Advantange of Acesulfame-K
- Zero glycemic;
- Not harmful to teeth;
- Suitable for diabetics;
- It is one of the cheapest sweeteners;
- Works very well with other sweeteners including Aspartame and Sucralose;
- It is heat stable and is suitable for cooking and in processed foods.
Specification
Appearance White crystalline powder
Assay 99.0-101.0%
Water solubility Free soluble
Ultraviolet absorption 227±2nm
Loss on Drying 1.0 %max
Sulfate 0.1% max
Potassium 17.0-21 %
Impurity 20ppm max
Heavy metals (Pb) 1.0ppm max
Fluorid 3.0ppm max
Selenium 10.0ppm max
Lead 1.0ppm max
PH value 6.5-7.5
Application
Acesulfame-K is usually used in combination with aspartame or other sweeteners because it has a synergistic effect to enhance and sustain the sweet taste of foods and beverages. It is heat stable so it can be used in baked products. It does not provide calories. Acesulfame-K is found in many foods, including chewing gum, desserts, alcoholic beverages, syrups, candies, sauces, and yogurt. Apart from its usage in food and beverages it is also used in some medicines like cough drops, toothpaste, and mouth washes.

Packing
25kg per square fiber drum
18tons per FCL with pallets,20tons per FCL without pallets