Para-Aminosalicylic acid
CAS 65-49-6 (4-aminosalicylic acid or PAS) is an antibiotic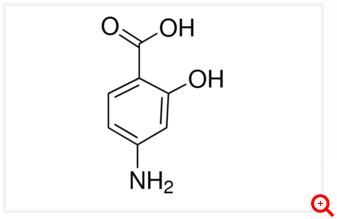 used to treat tuberculosis. Thisorganic compound has also been use since the 1940s for the treatment of inflammatory bowel diseases (IBDs), where it has shown greater potency in ulcerative colitis and Crohn's disease.It is thought to act via NF-κB (nuclear factor-kappa B) inhibition and free radical scavenging. The closely related chemical compound 5-aminosalicylic acid, sold under the name mesalazine, also has medical uses.
Specification
Appearance Almost white or slightly yellow powder
PH 3.0-3.7
m-Aminophenol ≤ 0.25%
Chloride ≤ 0.042%
Water (K.F) ≤ 0.5%
Residue on ignition ≤ 0.2%
Heavy metals ≤ 30ppm
Assay ≥ 98.5%
Applications
Pharmaceutical intermediate or photographic products and processes.
Packing
25kg fiber drum.
9mt per 20ft container