Methacrylic acid CAS 79-41-4, abbreviated MAA, is an organic compound. This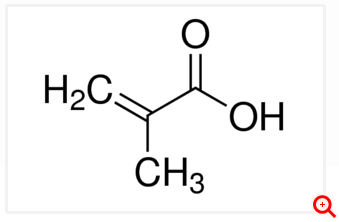 colorless, viscous liquid is a carboxylic acid with an acrid unpleasant odor. It is soluble in warm water and miscible with most organic solvents. Methacrylic acid is produced industrially on a large scale as a precursor to its esters, especially methyl methacrylate (MMA) and poly(methyl methacrylate) (PMMA). The methacrylates have numerous uses, most notably in the manufacture of polymers.
Specification
Purity (GC ) ≥99%
Moisture (KF) ≤0.5%
Solidifying point <15°C
Relative Density 1.015 g/cm3 (20 °C)
Boiling point 161°C~162°C
Refractive point 1.432(ND20)
Color (Pt - Co) <10
Inhibitor MEHQ 200ppm ~ 300ppm (According to customers)
Application
- Used in the manufacture of paint, insulation materials, adhesives and ion exchange resin
- Used as important intermediates of organic chemical raw materials and polymer.
- In addition, methyl acrylic acid can be used as the raw material of synthetic rubber.
Packing
1) 200kg plastic drum, total 80 drums,16 MT per 20ft container.
2) 1000kg IBC drum, total 20 drums,20 MT per 20ft container.