Magnesium gluconate (CAS 3632-91-5) is white crystalline powder, no smell,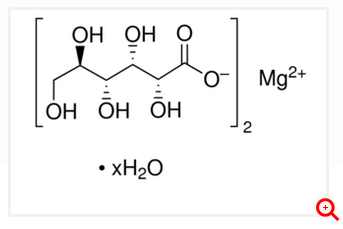 no impurities, soluble in hot water, hardly soluble in ethanol. Magnesium gluconate is a compound with formula MgC12H22O14. It is the magnesium salt of gluconic acid. According to scientific research, magnesium gluconate shows the highest level of bioavailability of any magnesium salt and is recommended as the optimal salt for human supplementation although of the 10 salts studied, all increased Magnesium levels significantly.
Specification
Appearance White crystalline powder
Identification A To pass test
Identification B To pass test
Water,% 3.0~12.0
PH 6.0~7.8
Chloride ,% ≤0.05
Sulfate,% ≤0.05
Heavy metals, % ≤20
Lead,ppm ≤10
Reducing substances, ppm ≤1.0
Organic volatile impurities Meets requirements
Application
In food and health industry, magnesium gluconate is mainly used for nutrition, dietary supplements for magnesium.
In medical health, magnesium is a therapeutic agent.
Packaging
25kg per fiber drum ,9mt per 20ft container;
25kg per bag, 23mt per container without pallet, 20mt per container with pallet.