Fructose CAS 57-48-7, or fruit sugar, is a simple ketonic monosaccharide found in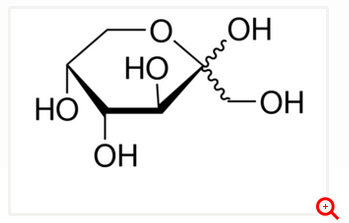 many plants, where it is often bonded to glucose to form the disaccharide sucrose. It is one of the three dietary monosaccharides, along with glucose and galactose, that are absorbed directly into the bloodstream during digestion. Pure, dry fructose is a very sweet, white, odorless, crystalline solid and is the most water-soluble of all the sugars. Fructose is found in honey, tree and vine fruits, flowers, berries, and most root vegetables.
Commercially, fructose is frequently derived from sugar cane, sugar beets, and corn. Crystalline fructose is the monosaccharide, dried, ground, and of high purity.
Specification
Appearance White crystals, free flowing
Teste and Odor Natural sweet, no objectionable taste or odor
Fructose Assay(on dry basis) 98.0%-102%
Dextrose Content ≤0.5%
GMO Status Negative
Acidity ≤0.50ml
Loss on Drying ≤0.5%
Residue on Ignition ≤0.05%
Chloride ≤0.018%
Sulphate ≤0.025%
Calcium & Magnesium (as Ca) ≤0.005%
Hydroxymethylfurfural (dry basis) ≤0.1%
Heavy Metals(as Pb) ≤0.1/kg
Arsenic(as As) ≤1.0%
Total Plate Count ≤100cfu/g
Mold & Yeast ≤10cfu/g
Coli forms ≤30MPN/100g
Colon Bacillus Negative
Pathogen (salmonella,staphylococcus,shigella) Negative

Advantages
- Low calorie
It doesn't lead to elevate blood glucose levels, stimulate insulin secretion and could inhibite excessive body fat.
- Hard crystalline
Once the crystalline fructose is dissolved in the food,it will not easy to crystallize.
- Sweetness
The sweetness of Crystalline fructose is 1.8times of sucrose.
- Flavor enhancer
The flavour of crystalline fructose releases before the glucose and sucrose.And it will mask the fragrance of fruit.
- Reduce the freezing point
It has the ability of reducing the freezing point. Therefore,it is widely used in frozen food to enhance the taste.
- It not cause decayed tooth; it can control people's weigh effectively by increasing the felling of satiety and
reducing fat because it is sweeter than cane sugar but with lower calorie.


Application
It is used as a sugar substitute in foods and beverages including soft drinks, yogurt, industrial bread, cookies, salad
dressing, and tomato soup. It is used in the manufacturing of many sugar-free, low calorie and dietary products,
such as:
-

Beverages

:

carbonated and still soft drinks, fruit-juices and fruit syrups.
-

Table-top

:

compressed/powdered sweeteners,sweetener sachets and liquid table-top sweeteners.
-

Dry mixes

: hot and cold chocolate and beverage mixes and instant desserts.
-

Dairy

: yoghurt, frozen novelties and desserts.
-

Confectionery

: chewing gum, boiled sweets, pastilles, mints, chocolate, gums and jelly.
Packing
25kg/bag with double PE bags inside, 23,000kg/20GP
25kg/fiber drum, 9,000kg/20GP
Storage & Transport
Stored in cool and airy place; away from fire and heat; handle with care; no breakage, avoid leakage
It is valid for 3 years under proper condition.
Fructose is classified as a

Common Good for transport.
Please refer to MSDS for more information about Safety, Storage and Transportation.