The chemical name for Creatine is methyl guanidine-acetic acid. Creatine is a natural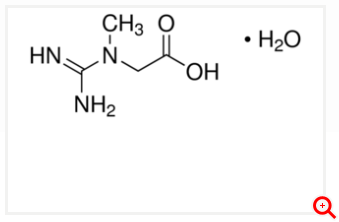 substance found in our muscle cells, especially around the skeletal muscle (about 95% of the body's creatine supply) with the remaining 5% stored in other parts of the body. Creatine is a metabolite produced in the body which mainly consists of three amino acids - methionine, arginine, and glycine.
Creatine is white crystal or powder, slightly soluble in water, insoluble in ethanol. It divides into Creatine monohydrate CAS 6020-87-7 and Creatine anhydrous CAS 57-00-1.
Specification
Assay (on dried substance) 99.50% Min.
Loss on drying 12.00% Max.
Ignition residue 0.10% Max.
Heavy metals (as Pb) 0.001% Max.
Creatinine 80ppm
Dicyandiamide 20ppm Max
Dihydrotriazines Negative
Cadmium Negative
Mercury 1ppm Max
As 1ppm Max
Total Plate Count 10cfu/gm Max
E. Coli & Salmonella Negative
Yeast & Mould Negative
Application
Creatine monohydrate is a dietary supplement that athletes and many bodybuilders use to increase high intensity exercise performance, increase strength, have fuller looking muscles, increase body mass and have faster post workout muscle recovery.
1) Food additive
2) Cosmetics surfactants
3) Nutrition enhancer
4) Pharmaceutical ingredient
5) Health product
Packing
25kg/carton or fiber drum