Benzoic acid CAS 65-85-0, used as a food preservative, represented by the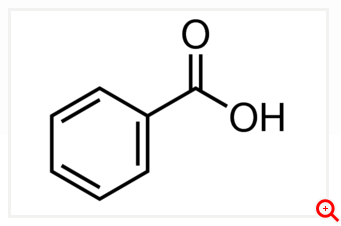 E-numbers E210, E211, E212, and E213, the simplest aromatic carboxylic acid containing carboxyl group bonded directly to benzene ring, is a white, crystalline organic compound. The name derived from gum benzoin, which was for a long time the only source for benzoic acid. This weak acid and its salts are used as a food preservative. Benzoic acid is an important precursor for the synthesis of many other organic substances.
Benzoic acid is soluble in ethanol (100 mg/ml), water (3.5 mg/ml at 25° C), chloroform (15 mg/ml), methanol (71.5 mg/ml), and hexane (0.9 mg/ml). Melting Point is 121-125° C (lit.)
Specification
Purity: 99.5% min
Melting point: 121 - 123
Moisture: 0.7% max
Heavy metals (as Pb) : 0.001% max
Arsenic: 0.0002% max
* Please refer to specific Certificate of Analysis for details.
Application
- Benzoic acid can be used in food, technical and pharma industries.
- Benzoic acid is commonly used as food preservative.
- Benzoic acid is used as raw material in the production of pesticide, dye, medicine, perfume,mordant, plasticizer.
- Modifying agent for polyamide resin and alkyd resins.
- Rust inhibitor of steel equipment and so on.
Packing
25KG/bag, 500KG/bag
16MT/FCL with pallets;20MT/FCL without pallets;