Amino Trimethylene Phosphonic Acid ATMP(CAS 6419-19-8) is crystal powder,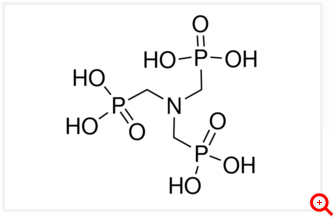 soluble in water,easily deliquescence,suitable for usage in winter and freezing districts. Because of its high purity, it can be used in woven & dyeing industries and as metal surface treatment agent.
Specification
Appearance White crystal powder
Active acid % 95.0 min
Chloride (as Cl-)% 1.0 max

pH (1% water solution) 2.0 max
Fe, mg/L 20.0 max
Application
Amino Trimethylene Phosphonic Acid ATMP is usually used together with organophosphoric acid,polycarboxylic acid and salt to built all organic alkaline water treatment agent.

Amino Trimethylene Phosphonic Acid ATMP can be used in many different circulating cool water system.The dosage of 1-20mg/L is recommended.As corrosion inhibitor, the dosage of 20-60mg/L is preferred.
Packing
25kg per bag,25mt per 20ft container
Storage
Placed in sealed container and kept in a cool and dry place.

Avoid strong vibration,insolation, high temperature,smoke and fire.