1-Methoxy-2-propanol Acetate CAS 108-65-6 is a kind of advanced industrial solvent with low toxicity and strong solubility both for polar and non-polar substance. It is a P-type glycol ether used in inks, coatings, and cleaners.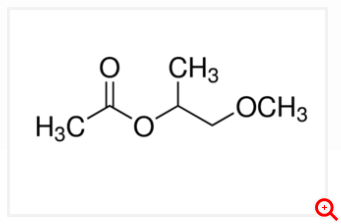 - Colorless transparent liquid
- Melting point -87 Degree
- Boiling point of 145-146 Degree (lit.)
- Density of 0.970 g/mL at 25 Degree (lit.)
- Flash point to 110 F.
- Storage conditions Flammables area
- Water solubility of 19.8 g/L (25 DHS C)

Specification
Appearance Colorless transparent liquid
Color (Pt-Co) ≤ 10
Purity, % ≥ 99.5
Moisture , % ≤ 0.05
Acidity, % ≤ 0.02
Distillation range 143~149℃


Application
1-Methoxy-2-propanol Acetate PMA is a senior industrial solvent with low toxicity.
1) Mainly mainly used in

TFT-LCD photo-resistance diluent

in the production of LCD and optical resist,
photo-resist remover, stripping agent, detergent for IC, photo resist-removing buffer solution,
corrosive processing and other chemicals requiring special specification.
2) It is also used in the solvent of printing ink, paint, writing ink, textile dyestuff and oil.


Packing
200 kg per Steel drum
16 MT per 20ft container with pallets
Storage & Handling
Stored in cool and airy place; away from fire and heat; handle with care;no breakage, avoid leakage.
It is valid for 1 year under proper condition.
1-Methoxy-2-propanol Acetate PMA is classified as Dangerous Good for transport

(UN 3272, Class 3, Packing group III

)
* Please refer to MSDS for more information about Safety, Storage and Transportation.