Ammonium oxalate monohydrate CAS 6009-70-7 is an oxalate salt with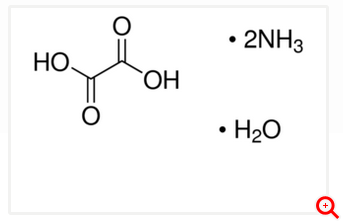 ammonium (sometimes as anhydrous). It is a colorless salt under standard conditions and is odorless and non-volatile. It is a constituent of some types of kidney stone. Found also in guano. It must be added to blood to prevent its coagulation in vitro (outside the body). Ammonium oxalate is white powder crystal,it is soluble in water,insoluble in ethyl alcohol.
Specification of Ammonium oxalate
Appearance White needle crystal
Assay, % 99.5 Min
Sulfate(SO4), % 0.01 Max
Chloride(Cl), % 0.001 Max
Iron(Fe), % 0.001 Max
Heavy metal(Pb), % 0.001 Max
Water insolubles, % 0.005 Max
Application of Ammonium oxalate
Ammonium Oxalate can be used in the detection and determination of calcium,lead and rare earth metal ions.
It can also be used in routine examination of blood.
Packing
25kg per bag,18mt per 20ft container