Vitamin E a-Tocopherol CAS 59-02-9 is nearly white to yellowish granular/powder,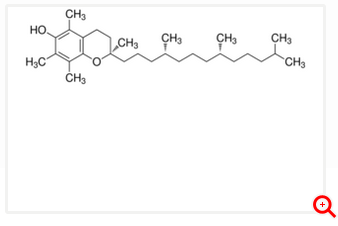 practically insoluble in water, freely soluble in acetone, in ethanol and vegetable oils.
Vitamin E is a vital nutritional ingredient and recognised as a valuable anti-oxidant in human food stuffs.In medicine, VE is used for treating gingivitis, coarse-skin disease, fatty liver (hepatic adipose infiltration), arteriosclerosis and high blood cholesterol leverl.VE is also used as a food additive and fortifier, and as animal feed additives, and is known to improve human and animal reproductive function. As a cosmetic additive, VE is known to prevent skin aging, improve skin elasticity and rejuvenation.

Specification
Appearance White or whitelike powder
Assay >=50%
Loss on Drying =<5.0%
Seive Analysis >=90% through No. 20 (US)
Heavy Metal =<10mg/kg
Arsenic =<2mg/kg
Pb =<2mg/kg
Cadmium =<2mg/kg
Mercury =<2mg/kg
Applications
In food/pharmacy industry
- As a natural
antioxidant
inside cells, supplies oxygen to blood, which is carried to the heart and other organs; thus alleviating fatigue; aids in bringing nourishment to cells.
- As an
antioxidant and nutrition fortifier
which is different to the synthetic on components, structure, physical characteristics and activity. It has rich nutrition and high security, and is prone to be absorbed by human body. In feed and poultry feed industry.
- As
dietary supplements
and in food technology as Vitamins.
- Acts as an antioxidant controlling redox reactions in a variety of tissues and organs.
- Also provide protection against pulmonary oxygen poisoning. In cosmetics industry.
- Improves
microcirculation of the skin
.
- Protects against U.V irradiations.
- Maintains natural
moisture of skin
.
Packaging
25kg/fiber drum with double PE bags inside