Vitamin E acetate D-Tocopheryl AcetateCAS 7695-91-2

is white to almost white free flowing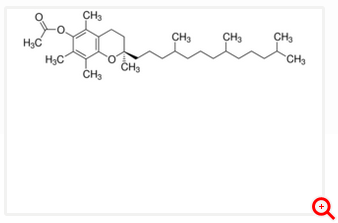 powder, soluble in chloroform, ether, acetone, and vegetable oil, soluble in alcohol, insoluble in water. Better heat resistance when exposed to light can be oxidized, become darker in color.
Vitamin E is a vital nutritional ingredient and recognised as a valuable anti-oxidant in human food stuffs.In medicine, VE is used for treating gingivitis, coarse-skin disease, fatty liver (hepatic adipose infiltration), arteriosclerosis and high blood cholesterol leverl.VE is also used as a food additive and fortifier, and as animal feed additives, and is known to improve human and animal reproductive function. As a cosmetic additive, VE is known to prevent skin aging, improve skin elasticity and rejuvenation.
Specification
Appearance White to almost white free-flowing powder
Loss on drying ≤5.0%
Heavy metals ≤0.001%
Assay ≥50.0%
Applications
- In the food application, it can be used as the anti-oxidant and intensified nutrition to grease food.
- In the
pharmaceutical
applications, it can be used as raw materials to produce medicine, can cure gingivitis, coarse-skin disease, fatty liver, arteriosclerosis and high cholesterol.
- As
cosmetic
additive, it can prevent skin ageing, improve reproductive function and fecundity of the animals.
Packaging
25kg/fiber drum with double PE bags inside