Vitamin C CAS 50-81-7 or L-ascorbic acid, is an essential nutrient for humans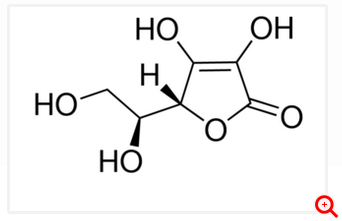 and certain other animal species. Ascorbic acid is a naturally ooccurring organic compound with antioxidant properties. It is a white solid and dissolves well in water to give mildly acidic solutions. Because it is derived from glucose, many animals are able to produce it, but humans require it as part of their nutrition. Other vertebrates which lack the ability to produce ascorbic acid include other primates, guinea pigs, teleost fishes, bats, and some birds, all of which require it as a dietary micronutrient (that is, in vitamin form). If you want to buy Ascorbic acid, please feel free to contact us.
Vitamin C is colorless crystals or a white or almost white, crystalline powder which discolors on exposure to air and moisture; Odorless or almost odorless and tasted sour; Easily soluble in water and a few partial soluble in ethanol; Insoluble in ether and chloroform.
Specificaton
Appearance White or almost White crystals
Identification Positive Reaction
Melting Point About 190℃
Colour of Solution ≤BY7
PH 2.1-2.6
Copper ≤5ppm
Heavy Metals ≤10ppm
Mercury <0.1mg/kg
Lead <2mg/kg
Arsenic ≤3ppm
Cadmium(CD) <1mg/kg
Oxalic Acid ≤0.2%
Iron ≤2ppm <
Loss of drying ≤0.4%
Sulphate Ash(Residue On Ignition) ≤0.1%
Specific Optical Rotation +20.5°-+21.5°
Assay 99.0% ~100.5%
Standard Up to BP2010/EP6/USP32/FCCV
Application
In the pharmaceutical industry, Ascorbic acid can be used mainly to produce various medicines as clinically important material for supplementary cure practice in different sectors. It is also used to treat scurvy and various acute and chronic infections diseases, are applicable to the lack of VC.
In the food industry,it can both use as nutrition-al supplements,supplementary VC in food processing,and also is good Antioxidants in food preservation,widely used in meat products,fermented flour products,beer,tea dtinks,fruit juice,canned fruit,canned meat and so on;
Ascorbic acid is also commonly used in cosmetics, feed additives and other industrial areas.
Packaging
25kgs per carton
1*20" load 20mt with pallets
1*20"load 22mt without pallets
Storage
Keep container tightly closed. Keep container in a cool, well-ventilated area. Air Sensitive Sensitive to light.
Store in lightresistant containers.