Tert-Butylhydroquinone TBHQ CAS 1948-33-0 is an aromatic organic compound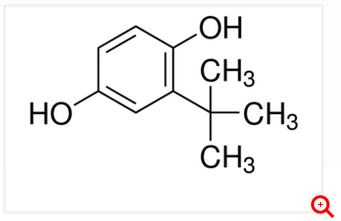 which is a type of phenol. It is a derivative of hydroquinone, substituted with a tert-butyl group. It is mainly use as food additives and PVC anti agent. It is a kind of white to pale gray crystal or crystalline powder with a slight, unpleasant odor, which is dissolved in ethanol, acetic acid, ethyl ester, isopropyl alcohol, ether, and vegetable oil, lard, hardly soluble in water.
Specification
Industry areas details
Appearance White crystalline powder
Content ≥99.0
%
di-tert-butylhydroquinone ≤0.20
%
Tert-butylbenzoquinone ≤0.20
%
Hydroquinone ≤0.10
%
Toluene ≤0.00250
%
Heavy metals ≤0.00020
%
Melting point 126.5-128.5
℃
Food areas details
Appearance White or Yellowish Powder, no peculiar smell
PH 3.0-3.6
Ash ≤3%
Water ≤6%
pH (10% sol.) 6.0 - 7.0
XOS2-7 ( Dry Basis) ≥35g/100g
Arsenic ≤1.0 mg/kg
Lead ≤5.0 mg/kg
Cadmium ≤0.5 mg/kg
Coliform Bacteria ≤3000 MPN/100g
Total Plate Count ≤10000 cfu/g
Mold ≤500 cfu/g
Application
Food areas: used as antioxidation for vegetable oil and fat, roasted food, fried food and meat products.
Agriculture areas:

used as stabilizer for insecticide
Intermediate:

for dye and pharmaceutical.
Also used as inhibiter for polyvinyl chloride and PVC fisheye resistant agent
Packaging
25kg per drum,
12mt per 20ft container
Storage & Handling
Store in a dry and shady place away from sunshine and heat. Once heated, it can release posion and pungent smog.
Always refer to the Material Safety Data Sheet (MSDS) for detailed information on handling and disposal.