Metronidazole benzoate CAS 13182-89-3
is white or light yellow crystalline powder,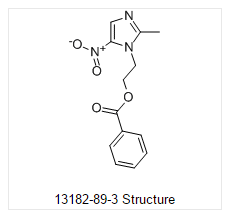 used for

resisting trichomonad and anti-infection

. Metronidazole benzoate is almost odorless and tasteless. in dichloromethane, chloroform, acetone soluble, slightly soluble in ethanol, almost insoluble in water. melting point of 99-102 ℃.
Specification
Item

Pharma grade
Appearance White or slightly yellowish crystalline powder or flakes
Any impurity,% ≤0.1
Total impurity,% ≤0.2
Any other impurity,% ≤ 0.1
Heavy metals, ppm ≤ 20
Loss on drying,% ≤ 0.5
Sulphated ash,% ≤ 0.1
Assay,% 98.5~101.0
Application
1) Metronidazole benzoate is used to treat Trichomoniasis, genitourinary system, such as vaginal trichomoniasis, etc.;
2) Metronidazole benzoate is used to treatIntestinal and parenteral amebiasis, such as amoebiasis and amebic liver abscess, etc.;
3) Metronidazole benzoate is effective to sensitive caused by anaerobic bacteria infections, such as bacteria, blood disease, sepsis, infection after abdominal surgery, etc;
4) Metronidazole benzoate is used to treat revent caused by anaerobic bacteria, surgical postoperative infection of department of gynaecology, etc
Packaging
25kg per fiber drum,9mt per 20ft container.