Menthol or L-menthol (CAS 89-78-1 or 2216-51-5) is long needle-like crystals.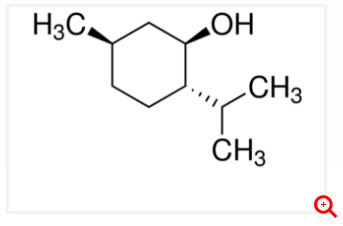 Menthol is slightly soluble in water, easily soluble in ethanol, ethyl ester, acetone and chloroform. Menthol is stored in normal temperature, and melting point is from 38 to 44 centigrade degree.
Menthol's ability to chemically trigger the cold-sensitive TRPM8 receptors in the skin is responsible for the well-known cooling sensation it provokes when inhaled, eaten, or applied to the skin
Specification
Appearance Long needle-like shiny crystals
Assay(dried substance),ug/mg 97%min.
Melting point 41-44℃
Specific rotation -45- -51°
Limit of nonvolatile residue 0.05%max.
As 3 ppm
Heavy metals ≤10ppm
Residue on ignition ≤0.1%

Function
- Very good cooling,abirritation effective
- As odorant
- As excitants

Application
- Pharmaceutical
- Food
- Flavor fragrance
- Cosmetic

- Menthol has effect on inflammation of the eye, sore throat, ulcers in the mouth;
- Used to treat rubella measles; discomfort with feeling of distension in the chest and hypochondriac regions;
- Menthol has function of headache in influenza, upper respiratory infection and other epidemic febrile diseases at the inital stage.
- Applied in food field,often used as additives,with distinct fragrance smell,promote digestion and increase appetite;
- Applied in daily necessities,added into a large amount of oral cleaning products, such as dentifrices, mouthwash and tooth powder;
- Applied in pharmaceutical field, because menthol has the function of inhibition and paralysis to sensory nerve endings, it can be used as counter irritant.

Packing
25kg per fiber drum, 9000kg/20"FCL
Storage & Transport
Stored in cool and airy place; away from fire and heat; handle with care; no breakage, avoid leakage
It is valid for 2 years under proper condition.
Menthol is classified as a Common Good for transport, under temperature 34-36℃.
Please refer to MSDS for more information about Safety, Storage and Transportation.