Ferulic acid CAS 1135-24-6 is a plant-based antioxidant that is extracted from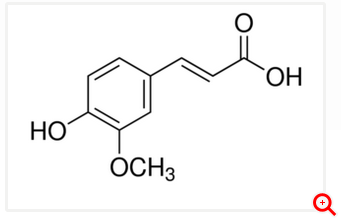 rice bran. Research suggests that it provides antioxidant and sun-protective benefits to skin white enhancing the stability of topical applications of vitamin E, good for keeping skin healthy and protecting it from further damage. As a medicine source, it functions as an ingredient for anti-inflammatory/ relieving pain/ antithrombotic/ combating free radicals and also for improving human immunity.
Specification
Appearance White or off-white crystalline powder
Assay, % ≥99.0
Loss on Drying, % ≤0.50
Melting Point, ℃ 170.0~175.0
Applications
Ferulic acid can be used as antioxidant in food and cosmetics, and anti-flammatory pain relieving in pharmaceutical field.
- Inhibit platelet aggregation, increase 3H-5HT releasing from platelet.
- Inhibit thrombosis, lower blood viscosity, in order to increase brain microcirculation, curing ischemia palsy.
- Antioxidation, clear free radical, protective cell, accommodate body immune function.
- Anti-bacteria, anti-inflammatory, anti-tumor, anti- mutation, anti- ultraviolet radiation.
- Enhance human bodys motility of sperm and mobility.
Packaging
25kg/fiber drum