EDTA Zinc disodium CAS 14025-21-9 is ethylenediaminetetraacetic acid,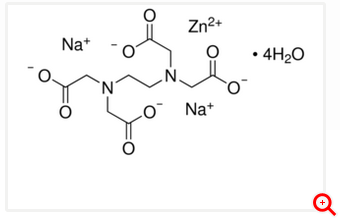 zinc-disodium complex or EDTA-ZnNa2. Its molecular weight is 399.6 and the solubility in water is approx.1000 g/L (20°C). Its bulk density is pprox. 800~1000 kg/m3 (untapped).
Specification
Apprearance white powder
Zn Chelated ≥15%
Cl ≤0.1%
pH Value (1% water solution ) 6-7
Application
- Chelated micronutrients foliar fertilizer;
- Contain various and sufficient nutrients including amino acid and micronutrients for plant;
- Increase the chlorophyll content and enhance the plant photosynthesis so as to strengthen the protein synthesis;
- Promote new roots and strengthen vine branches, improve resistibility to various deficiencies like yellow leaves, lobules, red leaves, rotten roots, black roots and physiological fruit drop;
- Promote flower-formation and improve quality and output to 20%;
- Improve self-immunity and enhance resistance to disease, insects, drought, cold and lodging;
- Free from contamination and without residue, suitable for the production of green and pollution-free foods.
Packing
1) 25 KG Kraft paper bag with PVC film inside
2) 25 KG drum packing
3) 1KG Aluminum Foil Bag , and 20bags put into one 20KG Carton Box
4) 500KG jumbo bag
5) 1kg aluminum bag or(1kg plastic bag)/1kgcolor box 20 color boxes 20kgs/ctn