If you need to buy N-Octyl-2-pyrrolidone from China, please contact TNJ Chemical. It is a key Pyrrolidone factory suppliers from China. Since from 2001, TNJ Chemial begun to supply all over the world N-Octyl-2-pyrrolidone with high quality and competitive price. If you need to know more information, please contact [email protected]
What is N-Octyl-2-pyrrolidone?
N-Octyl-2-pyrrolidone is clear colorless liquid,. It is slightly soluble in water, soluble in organic solvent easily. It is non-toxic with excellent formulation ability and degrades easily.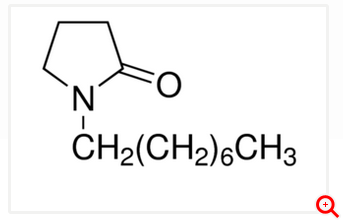 It can be used as wetting agent in printing process, co-solvent for pesticide formulation, pharmaceutical excipients for veterinary injection, dye carrier for aramid fibers, softener and metal cleaning.
- melting point: -25C
- boiling point: 305C
- flash point: 119C
- density: 0.922 g/cm3
- Viscosity:9 MPa.s
Specification of N-Octyl-pyrrolidone
Appearance Colorless transparent liquid
Content, % ≥ 99.50
Water, % ≤ 0.30
Color, Hazan ≤ 30
Application of N-Octyl-pyrrolidone
Intermediate used in the production of:
- Solvents in chemical reactions
- Components in ink and coating formulations
- Coating strippers in the electronic industry
- Formulating agents in crop protection products
- Intermediates in the production of pharmaceuticals
N-Octyl-2-pyrrolidone Packing
180kg/galvanized drum,
80drums(14.4mt)/20''container without pallet
80drums(14.4mt)/20''container with pallet (4drum/pallet)