3-Dimethylaminopropylamine DMAPA CAS 109-55-7 is colorless transparent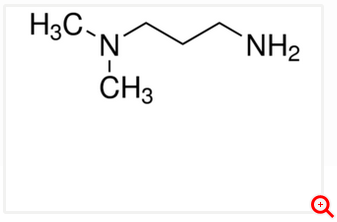 liquid, highly flammable. Temperature sensitive and possibly sensitive to air. Water soluble. N,N-Dimethyl-1,3-propylenediamine is a useful catalyst for Knoevenagel condensation. It is also a useful hardening agent for expoxy resin.
Specification of DMAPA
Assay 99.50%min
Water 0.5%max
Color 30max
Application of DMAPA
- Catalyst for Knoevenagel condensation;
- Hardening agent for expoxy resin;
- Used as intermediates for pesticides
Packing of DMAPA
165kg/iron drum, 80 drums=20"FCL
19mt=ISOTank
Storing of DMAPA
Stored in cool and airy place; away from fire and heat; handle with care;no breakage, avoid leakage.
It is valid for 1 year under proper condition.
3-Dimethylaminopropylamine DMAPA is classified as Dangerous Good for transport (UN 2734, Class 8(3), Packing group II)
Please refer to MSDS for more information about Safety, Storage and Transportation.