Azelaic acid CAS 123-99-9, Nonanedioic acid is an organic compound with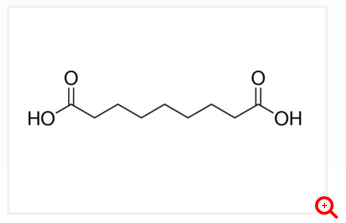 the formula (CH2)7(CO2H)2. This saturated dicarboxylic acid exists as a white powder. It is found in wheat, rye, and barley. It is a precursor to diverse industrial products including polymers, plasticizers, as well as being a component of a number of hair and skin conditioners. Azelaic acid is slightly soluble in water, soluble in water, ether, soluble in ethanol.
Specification
Assay 95.0%min
Cloride ≤1.0ppm
SO4 ≤ 5ppm
Fe ≤5ppm
Cu ≤5ppm
Water ≤0.6%
Application
Polymers and related materials
Esters of this dicarboxylic acid find applications in lubrication and plasticizers. With hexamethylenediamine,

azelaic acid

forms Nylon-6,9, which finds specialized uses as a plastic.
Medical
Azelaic acid

is used to treat mild to moderate acne, both comedonal acne and inflammatory acne. It belongs to a class of medication called dicarboxylic acids. It works by killing acne bacteria that infect skin pores. It also decreases the production of keratin, which is a natural substance that promotes the growth of acne bacteria.

Azelaic acid

is also used as a topical gel treatment for rosacea, due to its ability to reduce inflammation
Cosmetics
Azelaic acid

can irectly inhibit and kill the skin surface and hair follicles of bacteriaand eliminate pathogens
Normal skin and acne skin infection effects of anti horny, its mechanism is to reduce the follicular hyperkeratosis.
Package
25kg fiber drum, 1FCL can load 9mt
25kg bag, 1FCL can load 15mt