Sodium tungstate dihydrate CAS 10213-10-2 is the inorganic compound with the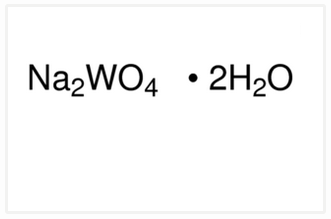 formula Na2WO4. This white, water-soluble solid is the sodium salt of tungstic acid. It is useful as a source of tungsten for chemical synthesis.mainly used in the manufacture of metal tungsten, tungsten acid, tungstate, dyes, inks, catalysts, etc.
Specification of Sodium tungstate dihydrate
Na2WO4.2H2O, % ≥98.0
Wo3, % ≥69
MO,% ≤0.02
Fe, % ≤0.005
As, % ≤0.003
SO4, % ≤0.02
Pb, % ≤0.003
Cl, % ≤0.03
Water Insoluble Matter,% ≤0.01
Application of Sodium tungstate dihydrate
Sodium tungstate is an intermediates product of Tungsten material.
--

Sodium tungstate

can also be used in mordant, catalysts, pigments and analytical reagent;
--

Sodium tungstate

is used as a weighting agent of fabric in the textile industry;
--

Sodium tungstate

also can be used in the manufacturing of flame-retarding, waterproof fabric,etc.
Packing
25kg per bag: PP plastic weaving bag or brown paper plastic bag
Total 15 MT per 20ft container with pallets,18 MT without pallets
Storage
Stored in cool and airy place; away from fire and heat; handle with care;no breakage, avoid leakage.
It is valid for 2 years under proper condition.
* Please refer to MSDS for more information about Safety, Storage and Transportation.