Polyvinylpyrrolidone K90 is kind of high viscosity compared with other Polyvinylpyrrolidone products. It exists in white powder or aqueous solution, and readily dissolves in water, alcohol, amine and halohydrocarbon, but is not dissolved in acetone and aether etc..
Due to its high viscosity, Polyvinylpyrrolidone K90 can be used as film-forming agent, viscosity-enhancing agent, lubricator and adhesive in hair sprays, mousse, hair-fixing gels and solution. They are also useful auxiliary materials in skin-care product, hair-dying reagent, shampoo, lipstick, deodorant, sunscreen and dentifrice.
Specification of Polyvinylpyrrolidone K90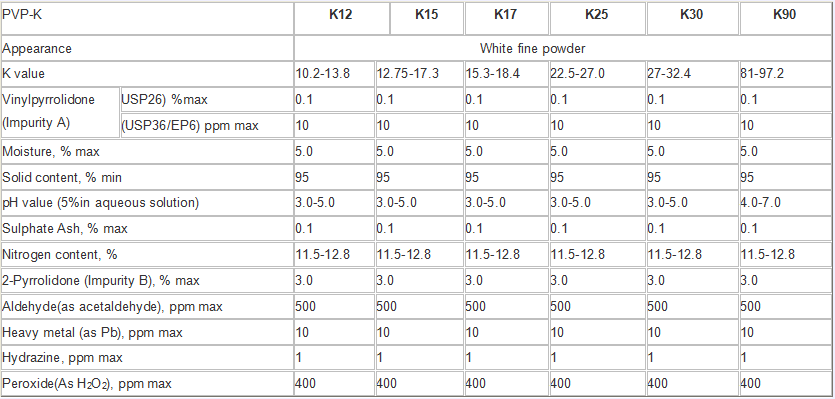 Polyvinylpyrrolidone K90 Application
In Pharmaceutical Industry
PVP-K possess excellent adhesive,film-forming,dispersing and thickening properties,and are widely used in the pharmaceutical industry.
Low molecular weight PVP-K
, often used as a solubilizing agent, crystallization inhibitor and suspension stabilizer in injection and ophthalmic formulations such as PVP K12,K15,K17.
Medium Molecular PVP-K
, often used as binder in tablets,capsules and granules, as a stabilizer for oral suspensions,film-forming agent,solubilizing agent, dispersant for pigments, as an enzyme stabilizer and to improve bioavailability such as PVP K25,K30.
High molecular PVP-K
, as highly effective binder, often used as stabilizer in oral and topical suspension, as a thickener, hydropylizing agent such as PVP K90.
PVP-K are used widely in a wide range in hair care, skin care & oral care products.The products are particularly suitable for formulations where viscosity modification and film forming properties are required. PVP-K products are particularly suited to hair styling products. The medium molecular weights such as PVP K30 are preferred where viscosity is critical in applications, for example, spray. The higher molecular weight products such as PVP K90 are the best choice where high viscosity are required in applications. PVP-K is widely used in cosmetics as followings
*Liquid hair setting preparations
* Suspensant, disperser and emulsifier
* Glass fiber
* Detergent
* Plastics and resin
* Textile dying and printing
* Film and adhesive
* TV tube
Packing
25kg/fiber or cardboard drum
9000kg/20"FCL (unpalletised / palletised) (18drum/pallet)