Gentamicin Sulfate, Gentamicin sulphate, CAS 1405-41-0, a water-soluble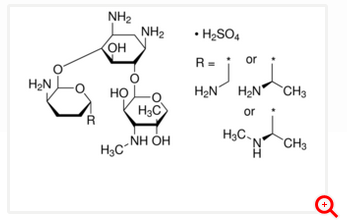 antibiotic of the aminoglycoside group, is derived by the growth of Micromonospora purpurea, an actinomycete. Gentamicin is an aminoglycoside antibiotic composed of a mixture of related gentamicin components and fractions and is used to treat many types of bacterial infections, particularly those caused by Gram-negative organisms. Gentamicin is also ototoxic and nephrotoxic, with this toxicity remaining a major problem in clinical use.
Gentamicin Sulfate is white or white crystalline powder, lead to wet, soluble in water, soluble in lipid and insoluble in organic solvents, stable chemical properties, on the change of temperature and pH value, the more stable 4% aqueous solution of pH 4.0 ~ 6.0.

Specification
Appearance White crystalline powder
Melting point About 205°C
Solution Clear, not more intense than Y7
PH 2.4~3.0
Loss on drying ≤0.5%
Sulphated ash ≤0.1%
Heavy metals ≤20 ppm
Related substances ≤0.25%
Application
As an important member of the Aminoglycoside Antibiotic, it is widespread used in the treatment of diseases caused by pseudomonas aeruginosa ,proteus,Bacillus Coli, Klebsiella, Serratia and staphylococcus, e.g. pyemia of newborn baby, septicemia, infections of central nervous system, urethra, respiratory tract, alimentary infection, skin, bone and soft tissue.
Package
5Bou/tin, 2tin/carton